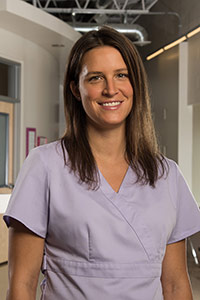 Born and raised in Bogota, Colombia, Yvonne has always had a passion for animals. After living in Atlanta for 6 years, she moved to Denver and has lived here, happily for 11 years, never looking back.
In 2008 Yvonne received her AAS in Veterinary Technology from the Bel-Rea Institute. In 2011 she took a break from the animal world to pursue other adventures, one of which included marrying her husband, a Denver native who very happily introduced her to everything this amazing city has to offer. Yvonne has a soft spot in her heart for all giant breeds, but mainly Danes and Mastiffs. In her spare time she loves to cook and entertain her friends.
She is so grateful that her path has come full circle and that she gets to spend her days working with animals again. She looks forward to many years at Urban Vet!