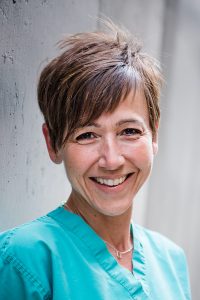 Dr. Suzanne Tousley joined the Urban Vet Care team in December, 2018.
Suzanne was born and raised in Detroit, Michigan. After graduating from Michigan State University with a BA in interior design, she moved to Denver and worked in design for 5 years before returning to her interest in veterinary medicine. She went on to graduate from the College of Veterinary Medicine at CSU in 2007 and performed a full year internship here in Denver, rotating through surgery, internal and emergency medicine.
Suzanne loves the veterinary field as it is always changing and consistently challenging. She lives in Golden with her high-energy family – husband, Tony; daughters, Taya and Celia; and 2 dogs, Stuka and Joey. She has taken up road bicycling after all those years of watching Tony compete in triathlons and they spend as much time as possible outdoors.