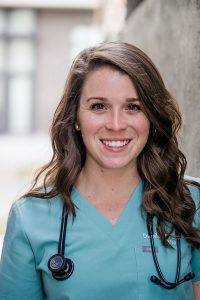 Dr. Mallory Purdy joined the Urban Vet Care team in February, 2019.
Dr. Purdy grew up in Atlanta, Georgia where most of her time was spent riding and working with horses. From an early age, she knew she wanted to be involved with animals as a career. Dr. Purdy worked for a small animal veterinarian in high school and fell in love with the human animal bond. She studied animal sciences at Auburn University in the College of Agriculture, where she rode for the equestrian team. She then went on to complete her doctorate at the University of Florida.
Being from the south and loving the beach, Dr. Purdy never saw herself living in a place where it snows. However, after visiting Denver, she fell in love with the city and the mountains. In 2016, she moved across the country and started to start her veterinary career in Colorado.
When she is not at work, Dr. Purdy practices yoga and enjoys getting out to the mountains. She and her husband have two Yorkies and two German shorthaired pointers.