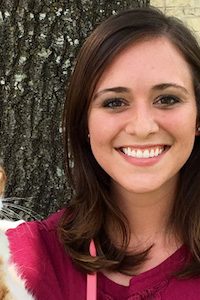 Dr. Katherine Bonvillain "Dr. B" joined the Urban Vet Care team in March 2019.
She is originally from Lake Charles, LA, and since she could talk, Dr. B remembers begging for a dog. When she was four, her dad brought home a Brittany Spaniel puppy. By the time she was 12, her family had three dogs, 20 chickens, a rabbit and a goat.
Dr. B completed her undergraduate education at Louisiana Tech University. She earned a Bachelor of Science in Animal Science with a concentration in pre-veterinary medicine along with a minor in chemistry. Dr. B earned her Doctorate of Veterinary Medicine from Louisiana State University School of Veterinary Medicine.
Before joining Urban, Dr. B practiced veterinary medicine in Austin, Texas for almost 3 years.  She is professionally interested in internal medicine, geriatric care, dermatology and soft tissue surgery.  She has two cats at home, an orange tabby names Princess Peach and an exotic short-hair named Goose.