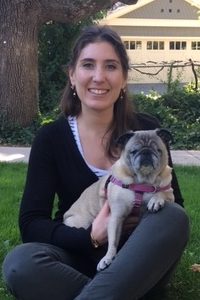 Urban Vet Care is thrilled to announce the addition of Dr. Anne-Marie Lewis as Urban Vet Care's Medical Director!  Dr. Lewis joined Urban in August, 2019.
Dr. Lewis grew up in the horse country of Carmel Valley, California where she began riding with a Large Animal Veterinarian on the truck at the age of 13.  She graduated from Duke University with a B.A. in International Relations and a History Minor (Go Blue Devils!).  She then returned to her first passion of Veterinary Medicine and attended Ross University School of Veterinary Medicine, completing her Clinical year and a Rotating Large Animal Internship at Texas A&M University where she found her beloved pug, Petunia.
After practicing for 7 years in Northern Virginia she then happily moved to Colorado to be closer to family, with more access to all the outdoor activities.  Her areas of interest are Minimally Invasive Surgery, Ophthalmology and Pain Management.